SP S&A, Leads in Spreading the Culture of Using Multi-Disposable Cups
– South Korea Development · SK Telecom and others 'Business Agreement on the Establishment of a Multi-Disposable Cup Circulation System'
– We will install an unmanned drop-off machine such as a café in the headquarters building. . . . Practicing Carbon Neutrality in Your Life
ON 13 OCTOBER, SP S&A, CEO LEE BYUNG-HOON, A COMPANY SPECIALIZING IN CONSTRUCTION BASIC MATERIALS, ANNOUNCED THAT IT HAD SIGNED A WORKING AGREEMENT WITH SOUTH KOREA POWER GENERATION, SK TELECOM, AND KC GREEN HOLDINGS TO ESTABLISH A MULTI-USE CUP CIRCULATION SYSTEM AT ITS HEADQUARTERS IN SOUTH KOREA POWER GENERATION IN BUSAN.
THE CEREMONY WAS ATTENDED BY PRESIDENT LEE BYUNG-HOON ESPI S.N.A., PRESIDENT LEE SEUNG-WOO OF SOUTH KOREA DEVELOPMENT, VICE PRESIDENT OF SK TELECOM LEE JUN-HO, AND CHAIRMAN OF KC GREEN HOLDINGS LEE TAE-YOUNG.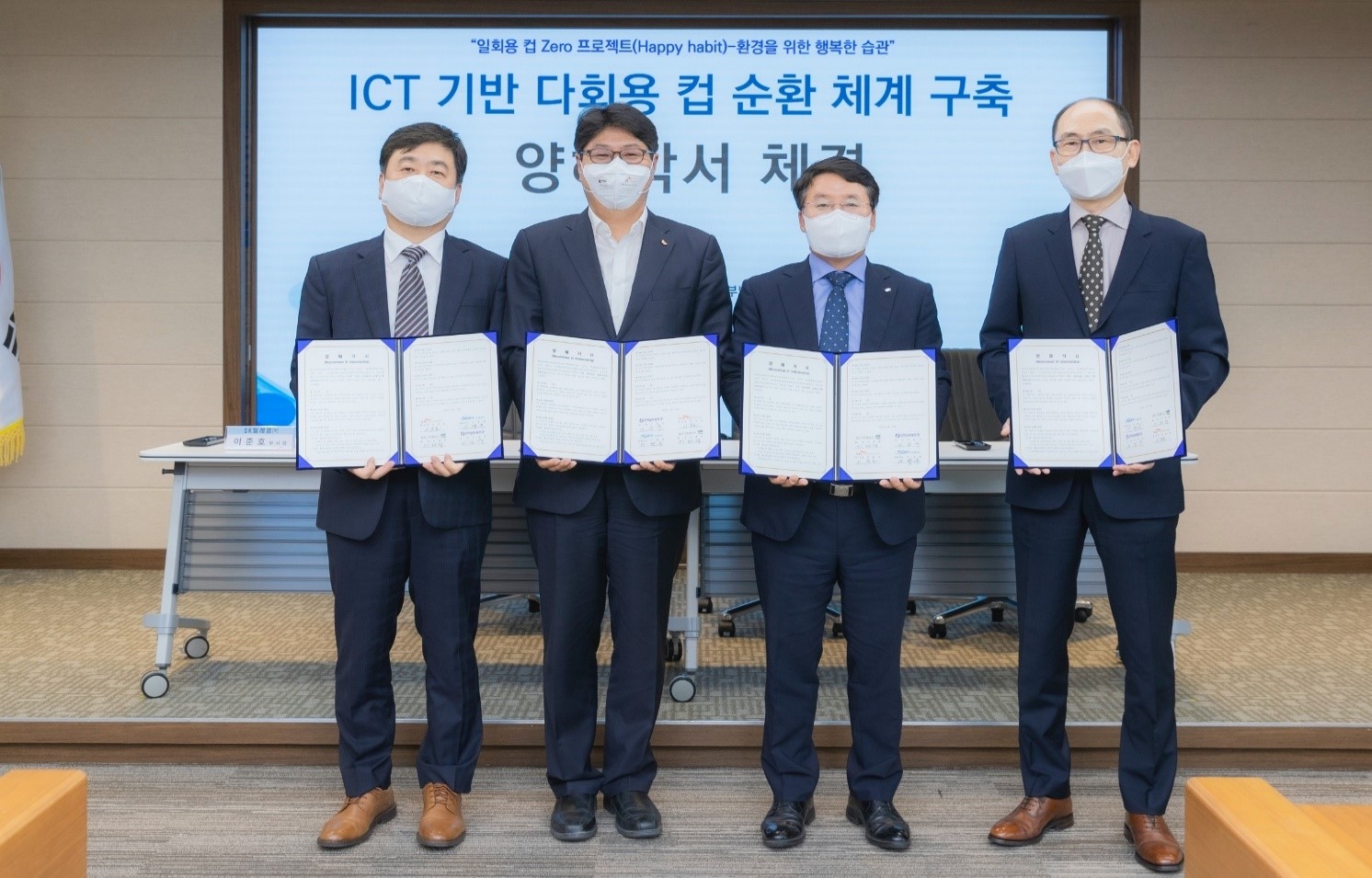 The business of building a multi-use cup circulation system is a business in which customers in a café pay a deposit while ordering a drink, use a multi-use cup, and then return the deposit when the used cup is returned through an unmanned drop-off machine. The returned cup is supplied back to the café through a process of cleaning, sterilization and disinfection through a professional cleaning company.
Under the agreement, Espisn.A. will install a multi-use cup unmanned drop-off machine in the café in its headquarters building and support the cost of the project with proceeds from the recycling of domestic coal ash. As a result, employees of the Three-Table Group companies will also actively participate in the multi-use cup use culture campaign activities.
The mere use of multi-use cups instead of disposable cups has the effect of reducing carbon emissions. The carbon emissions generated by the production and disposal of disposable cups are known to be 10 times that of disposable cups.
Lee Byung-hoon, CEO of Espi S.N.A., said, "We are pursuing this project to participate in the spread of a small culture of practice in our lives for carbon neutrality," and "We will continue to make efforts to strengthen the ESG management system and become a trusted company in the future."
Meanwhile, Espisn.A., a company that produces carbon-reducing building materials through the recycling of industrial by-products, in 2020, in collaboration with South Korea Power Generation, established Koscher, the country's first specialized corporation for expanding coal ash recycling.