We are leading the domestic cement industry with world-class cement production and supply capacity
SAMPYO cement was the first cement company in Korea that produces 11 million tons of cement per year, and provides cement and secondary products from the Samcheok plant (Samcheok-si, Gangwon-do) and through 16 shipping bases nationwide.
As Korea's first modernized cement production plant, the Samcheok plant built the network which can stably supply limestones, the most important raw material for cement, over four decades ago. It is located in the optimal location close to a port where it can receive bituminous coals required in the production process.
SAMPYO Cement has secured conditions to manufacture and sell high-quality products that can fulfill the needs of domestic and overseas customers by taking advantage of its outstanding logistics network and optimal location.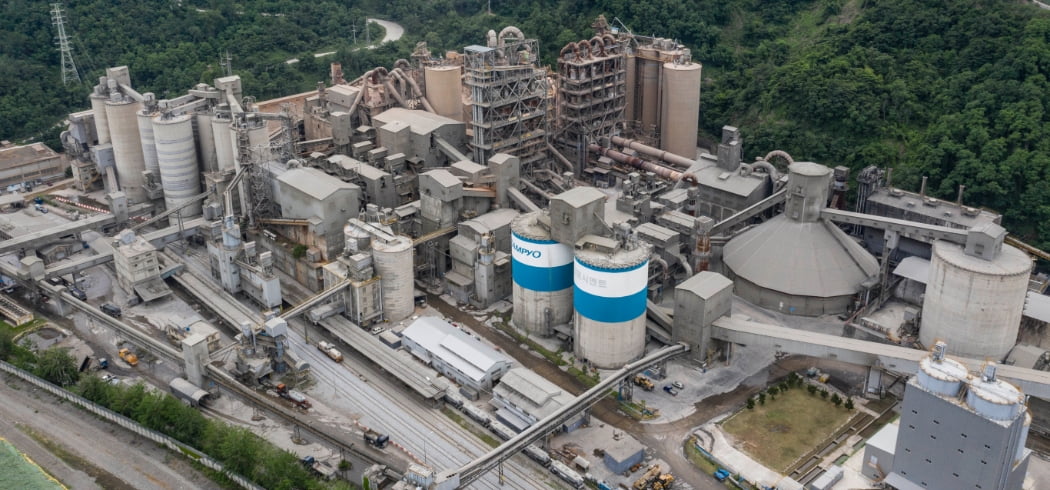 We value social and environmental responsibilities
SAMPYO Cement is promoting an innovative corporate culture to create a sustainable future besides providing high-quality products and services. To this end, we spare no efforts to achieve positive social and environmental achievements. SAMPYO Cement replaced bunker C oil used for kiln fuel with bituminous coal during the oil shock in 1980, the first in Korea. In 2004, SAMPYO Cement produced electricity using a waste heat recovery steam generator with waste heat from the clinker cooler.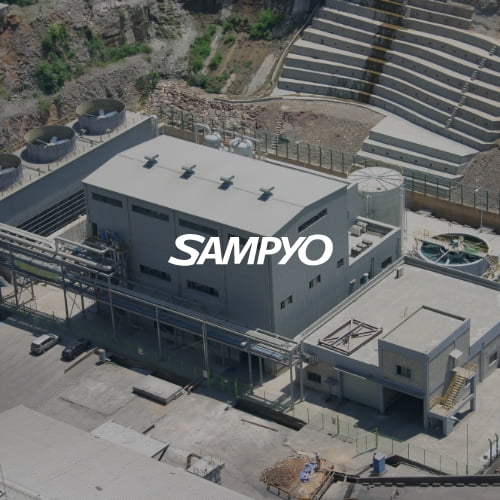 SAMPYO Cement added an eco-friendly business into the corporate articles as a target business area, in order to transition to the ESG management system while increasing investments in the eco-friendly business, including the reinforcement of circular resource treatment facilities and existing heat waste generation facilities which can reduce greenhouse gas (GHG) emissions. SAMPYO Cement uses the environment improvement facility and circular resources, including waste plastic, to reduce the discharge of environmental pollutants and strengthen the existing waste heat generation facilities.
SAMPYO Cement established the safety and health management policy and objectives to make workplace more pleasant and also free of accidents. It has regularly investigated potential risks and continuously conducted education and promotional activities on safety and health awareness to encourage the voluntary participation of all employees.
As a local company, SAMPYO Cement runs a win-win consultative body with the regional society and various support businesses (community development fund, education project, local resident support, cooperation with local governments, and purchase of local products) to grow and develop together with the local community. By expanding the environmental investment, safety and health activities, and corporate social responsibility activities, SAMPYO Cement will further fulfill its social responsibilities while practicing sustainable management.
Technology development for the sustainable future
SAMPYO Cement R&D center engaged in comprehensive R&D activities from the development of the next-generation construction materials to development of various high-functioning, high-performance advanced materials including special cement and concrete, alongside the improvement of cement process and development of production technology. It has technologically led the cement industry, and it is accelerating its efforts to commercialize new technology for the advancement of Korea's construction material sector.
In addition, SAMPYO Cement contributed to saving energy by successfully replacing bunker C oil used for kiln fuel with bituminous coal, the first to so in Korea. As a company considering people and the environment as the top priority, it has actively conducted studies to turn the cement industry into the environment industry by establishing the environment management policy.

With the abovementioned efforts, we will do our best to be strongly positioned as a leader in the domestic cement field by implementing "Econergy," combining the environment and energy.
Our research areas include "process research", reviewing the cement manufacturing process in terms of productivity improvement and energy saving technology development and environmental impact on the application of raw materials of industrial byproducts, the development of resource recycling type cement with the use of industrial byproducts besides the development of high-performance cement and raw materials, and "cement research" developing eco-friendly cement manufacturing technology.