Ready-mixed concrete
Creating the foundation for sustainable building materials

Our high-performance RMC empowers various types of modern architecture
SAMPYO Industry's RMC business boasts the biggest supply capacity in the Seoul capital area. We established an advanced nationwide infrastructure by running 24 RMC sites and have satisfied our customers by strengthening our supply capability and vertically integrating raw materials. We also meet the demands of our customers by building an advanced logistics infrastructure and reinforcing the support system for optimal mixer truck operations. We maintain the highest quality by developing and running SKS (SAMPYO KS), our own quality management standard.
We invest all of our energy into becoming a company that always walks together with customers, going beyond customer satisfaction. Overcoming all challenges and endless creative innovation, we will grow to become a global leader in the RMC industry.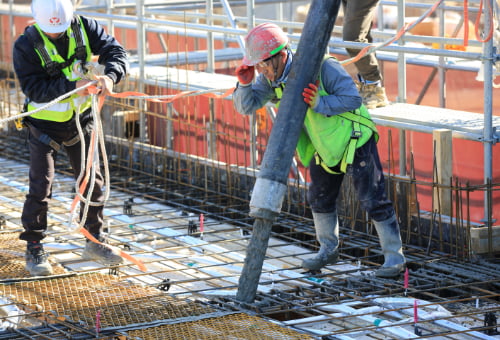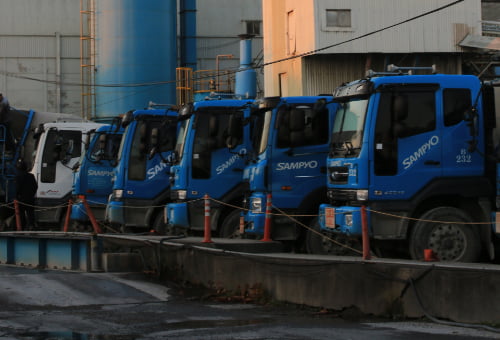 What is Remicon?
As an acronym for ready-mixed concrete, RMC refers to unreinforced concrete delivered to a construction site via a mixer or agitator truck after blending cement, aggregate, concrete, and water together. We produce various types of special concrete made to fit the properties of a structure and customized to the customers' needs by improving on the limitations of regular concrete materials.
Korea's first high-performance RMC brand, BLUECON
SAMPYO supplies unmatched high-performance concrete products, surpassing the limits of regular concrete, including ultra-high strength concrete (UHSC) to build skyscrapers, low carbon concrete to prevent global warming, and color concrete increasing the aesthetic value of buildings. We continuously make efforts to develop various products demanded by modern architecture.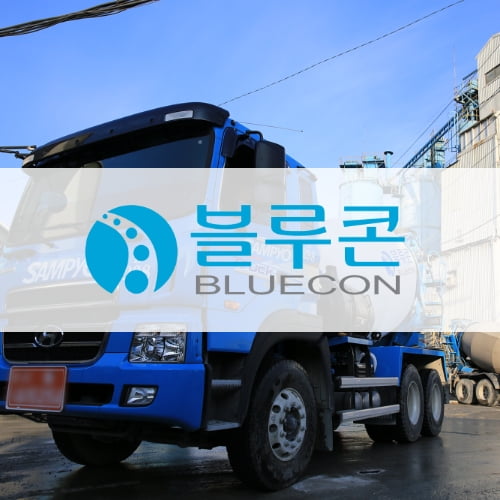 Construction environments are becoming more complex and challenging. It is not easy to maintain or shorten a set construction deadline due to construction delay (construction permit, work hour reduction), weather conditions (winter or rainy season), and construction work in an urban area. The social interest in the workplace safety is growing and labor costs rising due to a decrease in professional manpower.
Our special RMC brand BLUECON enables you to respond to such environment conditions.
As our premium brand, BLUECON is made by improving the material limits of regular concrete able to stand up to various construction environments. We continue to enhance its performance based on each customers' demands. With BLUECON, customers can respond to difficult site conditions with its outstanding performance in strength, workability, and durability compared to regular concrete, as well as resolve their difficulties and fulfill their needs in a visible way. We supply five types of BLUECON depending on the purpose of use.
Highest RMC production capacity in the capital area
with a nationwide supply network
We supply high-quality RMC in 15 plants in key positions of the capital area and two plants nationwide. By checking the location of RMC trucks in real-time with the GPS-based logistics control system and monitoring the site information, we deliver products to customers right on time at the desired place.
15 key RMC plants in the capital area
Seongsu / Pungnap / Anyang / Hwaseong / Yangju / Ilsan / West of Seoul / Namyangju / Songdo / Yongin / Osan / Anseong / Yeoncheon / Gwangju / East Seoul
Nationwide
Southern Gwangju / Western Busan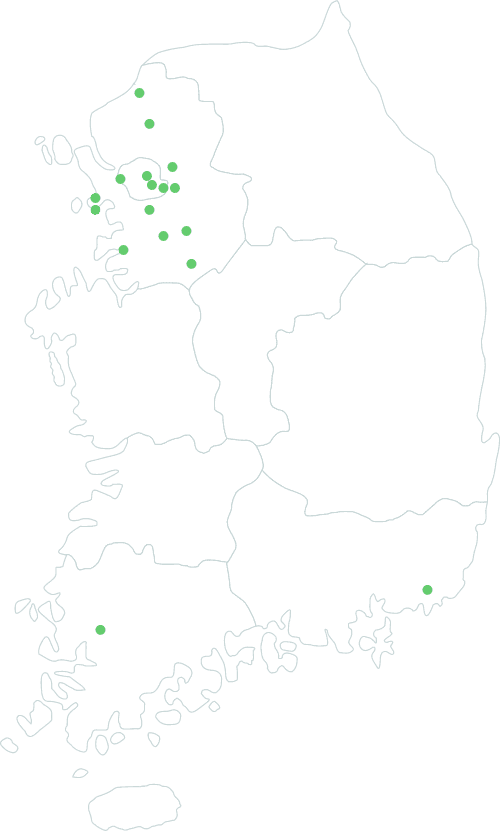 Smart GPS-based logistics control system and navigation for Mixer trucks
SAMPYO applies cutting-edge digital technology to a logistics system. We provide valuable features such as remaining time and distance to the destination, automatically presenting the optimal driving route by using real-time traffic conditions, checking each vehicle heading to the site, the goods delivery status, and providing major information of the site via audio in real time. The technology also offers the optimal driving route for large trucks to drive safely.
Strict quality management standard – SAMPYO KS (SKS)
We obtained the KS certification in all workplaces and have maintained the highest quality by setting SKS, our own quality standard that is more rigorous than that of the KS certification. Accordingly, our achievements in quality management are recognized by the public with awards granted on various occasions, and we were awarded the Grand Prize in National Standardization (received a Presidential and Prime Minister's citation) and was ranked number one seven times in the Korean Standard Quality Excellence Index (KS-QEI).

Environmental Product Declaration (EPD) certificate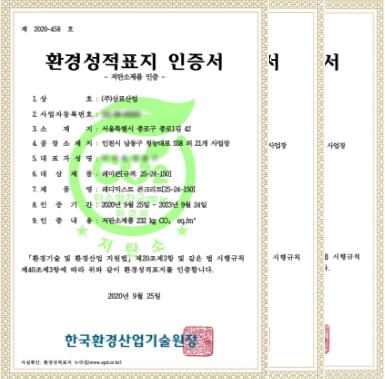 Low Carbon Products certificate